The Theatre Organ in Today's Culture

by Scott Foppiano
Ladies and gentlemen, I have been following this story since the beginning though having stayed quiet on it. I wish to say a few things here which some will agree with, some will not and others quite frankly won't care. Then there will be those who take every sentence here and try to dissect and/or turn them around to a state of distortion that would not even make sense to me, the original author. But I digress… Much personal emotion is being thrown around more so than, perhaps, fact and truth. Additionally, one must question "do we want, desire and need a museum piece or do we want an instrument that retains its entire historical pedigree but may also be expanded to accommodate today's expectations by artists and audiences alike?" Folks, it's not 1928 anymore, there is not a movie palace on every corner and silent films are rarely offered as the staple of any theatre. Therefore, what are these instrument used for nowadays? Films: yes, overtures and intermissions: yes, concerts: yes of course, but more than anything else: they are for entertaining those who still come to listen and enjoy their grand, happy and sonorous tones.
First, the topic of modern solid state relays and combination actions


As some have said, these are pretty much the standard today unless there is a special instrument which is totally intact and basically a historic museum piece with no alterations. Those that do remain are few and far between and should be maintained and valued. The organ at the Michigan, from what I remember having played it for several years personally (and it is without question one of my very favorite Michigan theatre organs) had suffered from inconsistent maintenance, to put it mildly, not to mention a parade of "technicians" in its chambers and relay rooms for many years. Given the tonal expansion that was desired and the sheer number of people who play the Michigan's organ, an organ incidentally which is used daily for movies and occasional other public presentations, multiple levels of memory without a setter board between the back of the console and orchestra pit wall, a reliable, traceable and responsive relay is definitely necessary and the ability to work on, program and maintain said instrument in the first place. From what I understand and what has been made known publicly far too many times now, the powers that be at the theatre, and who rightfully have a significant say in this instrument's future and use, wanted the above with its expansive capabilities rather than to rebuild and maintain the 85+ year old pneumatic and limited relay. Anyone can lament the loss of another pneumatic relay but, again, I wish to quote the old cliché inquiry: "if J.S. Bach walked the earth today and sat down to an instrument, would he want the limitations of an 1735 tracker with purely mechanical key and stop actions or would he embrace modern technology in organ building?" I dare say the latter, in spades.
Those entrusted to do the work specified by the Michigan staff

As with any sound and worthy business association and discernment, especially one involving such an important historical and visible instrument, it was decided for various reasons that organ firms capable of doing the entire body of work requested and desired by the Michigan be vetted rather than maintaining status quo or choosing someone at random. Does it really matter whether or not the individuals selected are exclusively "church organ people" or "theatre organ people"? Absolutely not. What is required is that they are competent, talented, understanding of the pipe organ as both a musical instrument and an intricately mechanical entity. Many have said "why didn't a theatre organ tech get the work instead of a church organ tech?" For the record, both those who work more exclusively on church pipe organs and those who do work exclusively on theatre pipe organs were investigated and "auditioned" for this work. Several factors come into play: time frame, approach, knowledge of the wind-blown pneumatic pipe organ (whether ecclesiastical or secular in this case), financial dealings and soundness, reputation, overall experience and what is promised as the end result. Top luminaries of the theatre organ world were approached as well as those who had previously done long-term work on the organ and, also, those who had worked on both church and theatre organs. In the end, the Renaissance Organ Company of Ann Arbor got the contract. The fact that their workshop is two miles from the theatre did not cause the major decision to employ their most-highly-revered craftsmanship, but in the end did provide a convenience that other, more distant firms might not have been able to offer. All staff at Renaissance have advanced degrees in organ from the nearby University of Michigan, still one of the largest organ departments in the country, and one of them does in fact play the theatre pipe organ quite well and had, in fact, had previous experience with TPOs. In addition, their knowledge of the line of solid state products available and in use today assisted the theatre's staff in discerning exactly which program would suit their needs and uses the best.
In this case it was the Syndyne system from Vancouver, Washington. Renaissance Pipe Organs was given the same chance at the contract that everyone else considered was and they previously did not have any personal or political "in" at the Michigan despite rumors to the contrary. RPO has the major pipe organ contracts in and around Detroit including both the Roman and Anglican Cathedrals, the National Shrine of the Little Flower in Royal Oak, the (former) First Presbyterian Church of Detroit where Gordon young played and designed the massive Casavant pipe organ therein, Christ Church Cranbrook's Mander pipe organ, any number of large and small churches of all denominations in and around southeast Michigan and beyond and also the venerable and important, historic Aeolian-Skinner at First Presbyterian Church in Ft Wayne, Indiana. They currently have in their backlog inquiries and several other projects pending on theatre pipe organs as well as the above. Do these sound like under-par credentials? Absolutely and positively not. Their work, tuning and true craftsmanship are some of the finest I have ever seen anywhere, bar none.
The actual work (ie: what really was and was not done)

Was the Barton's 1928 pneumatic relay removed and replaced with solid state? Yes, at the informed and educated decision of the Michigan staff and from their desire to not have to keep tweaking and rebuilding a pneumatic relay and combination action. Was the original core of the organ changed? NO! All original ranks and pipes remain in place as Dan Barton left them and provide that special, characteristic, sassy yet sweet sound that only the Michigan organ has and is so well known for. Was the original stoplist altered and mutilated? NO! The original stops, every single one, are in place. But through the capabilities of the solid state system, the stops and pitches of some of those ranks were further expanded on the stoprail to add more musical flexibility and allow for sounds and effects previously not possible. The problem here? None as far as I see, none at all whatsoever. The artists who regularly play the organ are thrilled with the expanded tonal palette of those original ranks and what they can now do that, for decades, they previously could not.
But the organ does not resemble what it once was
Oh yeah? Says who??? Everything Dan Barton left at the Michigan Theatre musically is intact and there in its completeness, only its operating system was brought into the 21st century and has provided a trouble-free, lightning fast pneumatic pipe organ that is an enviable and exemplary example of what can be done with foresight, imagination and good, sound judgment for preserving an instrument such as this for many future generations and, hopefully, young artists. In addition to all that remained before some new features were added to the console controls as well and as the result of the new Syndyne system: multiple banks of combination levels enabling many (many!) organists to set and keep their pistons in the organ for future performances without altering or being forced to share those settings of other organists. A sequencer…yes, much more common on classical pipe organs but nonetheless useful here…has been added with the hopes that organists who are not necessarily theatre organists who might be engaged to play with the Ann Arbor Symphony will be able to use and set up the instrument like their church counterparts rather than having to make sense of "all those colored stops and gadgets in those big horseshoe rows" in a short time frame. For me, perhaps the biggest "plus" is the addition of general pistons! Yes! Most theatre organists these days, though they can easily navigate a totally original TPO with only divisionals or collectives, find hugely expanded musical capabilities via the use of these generals used in conjunction with divisionals, rather than being limited to merely divisionals or collectives. These in themselves almost double the playing capabilities of the organ.
They completely changed the character and sound of the organ

Well, if one considers getting all pipes playing (which was formerly not the case by any means), getting all pipes on artistic, proper and musical speech, repairing pipes that had all but been mutilated or scrolls ripped so far down resonators that they barely spoke at all and would not hold tune, repacking stoppers for maximum tuning success and stable winding, sealing wind issues and repairing tremulants that had been allowed to rot to the point of unplayability and inadjustability, getting expression shades opening fully to emit sound into the auditorium, and the organ singing together cohesively with a blend, voice and perfection that it never previously had changing the character and sound, then, yes they did. They changed it to put it back to where it needed to be musically and to be as good, if not better, than Dan Barton left it in 1928. It is still the Michigan Barton in every sense of the word – better and more exciting than ever!
Conclusions
While I could go on, I hope that these comments share some insight and quell some speculations regarding the work that has occurred in Ann Arbor. Rather than spewing half-truths, vitriol, jealous rumors and completely non-factual information, those that are not in the know or who have had no association with any of the people involved recently or in the not-so-distant past should rejoice that an instrument such as this has not only been saved but is playing, daily, and is one of the most frequently-used and visible theater pipe organs in the Unites States today!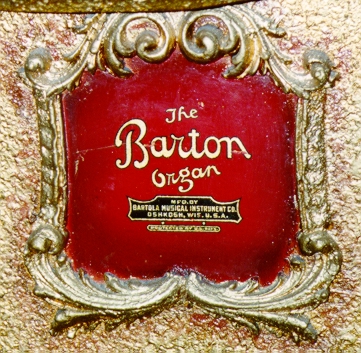 Though I have not yet had the honor and privilege of playing the Michigan's organ myself since the recent work was completed, I have heard from enough who have both seen, heard and played it, and I cannot wait to get my hands on those manuals again for myself and be reacquainted once again with an organ I have always dearly loved and enjoyed. When I am afforded that opportunity, which I hope and believe will be sooner than later now, I will again report first hand (and first ear)! But I report what I do here and above because I know so many of those involved one way or the other, personally and for many years, as well as organists who currently play at the Michigan or who have in the past.
In the end, is it important that the organ be preserved under glass to please a select few "historical experts and aficionados" and only capable of what was possible, musically, in 1928 or that this organ truly engage its listening patrons in its tones and entertain them unlike any other instrument on the face of God's earth? I dare say the latter — and Bravo to the Michigan staff, Renaissance Organs of Ann Arbor, Mr Henry Aldridge, historian and watchful "keeper" of this great movie palace and its Golden Voiced Barton Organ and Mr. Russ Collins, general manager at the Michigan — all of whom did the right things both in the interest of the instrument and in presenting a world-class and living example of a tremendously historic piece of American musical history.
______________
Scott Foppiano