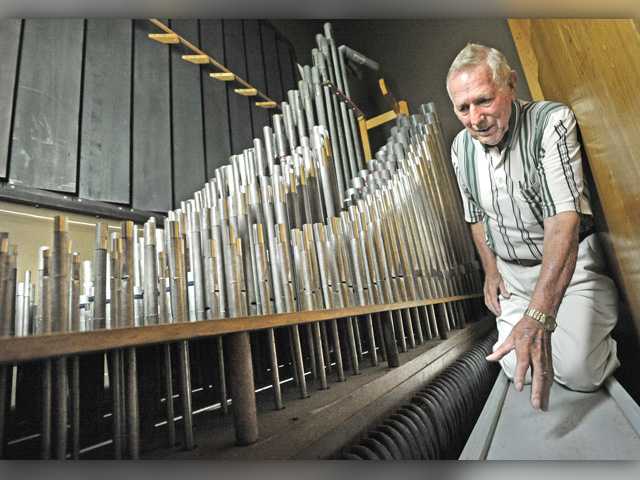 Möller Opus 2022 began in 1915 in the Strand Theater in Meridian, Mississippi. Those of you who are not afficiandi of organ trivia might question this, but the first organs installed and played in theatres were not the unit organs we think of today as theatre organs. Lots of companies installed instruments in theatres, and then came Wurlitzer. Heavy use of unification accomplished many things that allowed the organ to become the must-have instrument in a fine theatre.
So, this organ is now in the care of an 85 year old amateur organ technician. He's devoted, has an engineering background, has flexible thinking, and is good with his hands. Who will succeed him? Will the church suddenly begin a contract with an organ builder? Now, the point is that this is a "feel-good" story, and I would never take anything away from that. It's my nature to think of the situation in a longer time frame, though. I've seen what happens when no professional maintenance is given over time. I've seen what happens when a volunteer for something is no longer available and suddenly there is an additional budget item. Probably, you have too.
Jerre Crosier, 85, steps around a shrub and opens a nondescript side door at the First Presbyterian Church of Newhall on Thursday. Inside is a 100-year-old motor pumping fresh air through a room full of tin tubing — 975 pipes, to be exact.
Crosier, who retired as an electronics engineer in 1962, squeezes past a wooden rack of pipes. This is his office, as it were — the place where he works making sure the church has its characteristic crisp organ sound every Sunday from its 100-year-old instrument.