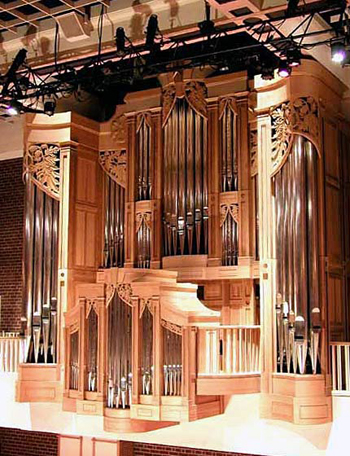 If you're not familiar with western North Carolina, you may be excused in a first reaction to this article in The Transylvania Times.
The massive pipe organ, the conspicuous centerpiece of the auditorium, is the elephant in the room for anyone sitting in the audience. At the recent Philharmonic sponsored Music in the Schools performance for all of the county's fifth graders, many children, most of whom had never been inside the venue before, were blown away by its sheer presence. Are we going to hear that?" they asked their teachers.
It is indeed the rare performance that features this magnificent instrument, but the April 3 Brevard Philharmonic concert will be the community's opportunity to hear this superb organ played by an award winning organist, Dr. William Bates. The story of how this world class instrument ended up in Brevard is one that began with the dream of a local couple, Ruth and Bob Coleman.
Both Colemans had deep ties to Brevard College and a daughter who had been a former dean, Dr. Clara Coleman-West. When the idea of the Porter Center was born, both of them began to work on making a substantial pipe organ an integral part of the architecture. And it had to be a Jaeckel organ.